General Information
History
Bought by bug for $500 and have been updating her ever since. A/C didn't work, suspension was fun to say the least. Once upgraded failing bushings, control arms and absorbers, she tightened up and turned in to the road gripping race car she is...ok, maybe it's the 5-speed or my lead foot?? Idol issuescleaned injectors, changed MAP, various clips needed replacing as those too fail.
Clutch gearshift separator, plastic, failed, rigged it for a bit. Then found replacement. Clutch replaced w/in year I owned...new rule no one except me drives my standard!!
Various codes leaks, friend fixed, but creeps back up occasionally.
Figured out big fan broke from but...had a mechanic (real one) try and by pass fan relay w/a new one and fuse...DONT RECOMEND! took me weeks to suss out his 'job' and go back to factory fan, relay/sensor/module...I failed and my ex, who always comes thru fixing this ride saved the day.
The fan running was the final check on my long list of a/c work. I over filled compressor, fried it on a trip the length of FL, shredded belt on highway! Got a new compressor from junkyard and installed. Used gauges this time and refilled gasses etc...worked but was warm ...and at that point fans b.s. began so never figured it out. I decided to cut into dash and tape up blend doors w/success, but still no fans.
So, once ex fixed wiring harness/fan wiring tada a/c worked. Drove home to Tallahassee. A month later I soldered all the connections that we twisted up and splice taped well to make sure all was good. Half way home a/c stopped and when cleaning up wiring and sliding connections I found that fan had a butt connector that unhooked! So crossing fingers a/c shall work again soon.
Got new rotors and pads for Xmas. Heard squeaks and once up on jack stands and tearing off calipers noticed super dirty and crazy uneven pad wear. Calipers were seized. So off to Upull cleaned, painted, seated pistons and reinstalled all since Xmas. LONGEST BRAKE JOB EVER!! Whic was prolonged b/c I decided to paint my wheels which took trial and error before I got results I could live with!
original look...bananas and minions covered up voids I guess.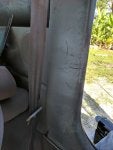 original interior was broken and busted.
went all black on-black inside, explained details in another door card thread on this site. Also did the console (adding useable drink holders) all pillars sparkly black, felt texture was best chance of sticking and hiding imperfections...all adding a little bling which I was ok with.
Head liner also modified and changed....added running lights, not in my model, totally necessary and also poached the upper console for sunglasses ( helped getting the fleece to stick or lay down flat). Also I changed my visors to the slides open mirrors instead of flip up which were all broken at junkyard too.
Finding unbroken door cards at u-pull nearly impossible, the last one I purchase was a no charge since to ratty. Hot knife and epoxy were necessary tools to work on plastics.
Modifications
Lighting
Refitting headlights now! Projectors and blacking out.
Wheel and Tire
Stock wheel 17's