Discussion Starter
·
#1
·
Hi everyone my name is Tim and first I'd like to say thanks to everyone for all the great write ups and how tos on here. They have really helped me out with quite a few of the projects I've tackled on my '99 GLS. Second this is not only my first Beetle but also my first Volkswagen and I've got to say this has to be one of the nicest cars I've owned to work on, that being said previous car where late 90s Saab 9000s, a 82 Volvo 240, and a Alfa Romeo. So I guess anything should be easier to work on then a Alfa.
Anyways what was intended to be a new daily driver with nothing done to it seems to be turning into more of a toy(this kinda happens with every car). So I've decided to make a build thread out of it. An so without more endless babble, here's the Beetle in question.
Its a 1999 GLS 2.0 5 speed manual with a 135k. Overall the car isn't in too bad of shape for age and mileage, has some small surface rust on the dented rocker, and the front end isn't too pretty under that stupid car bra,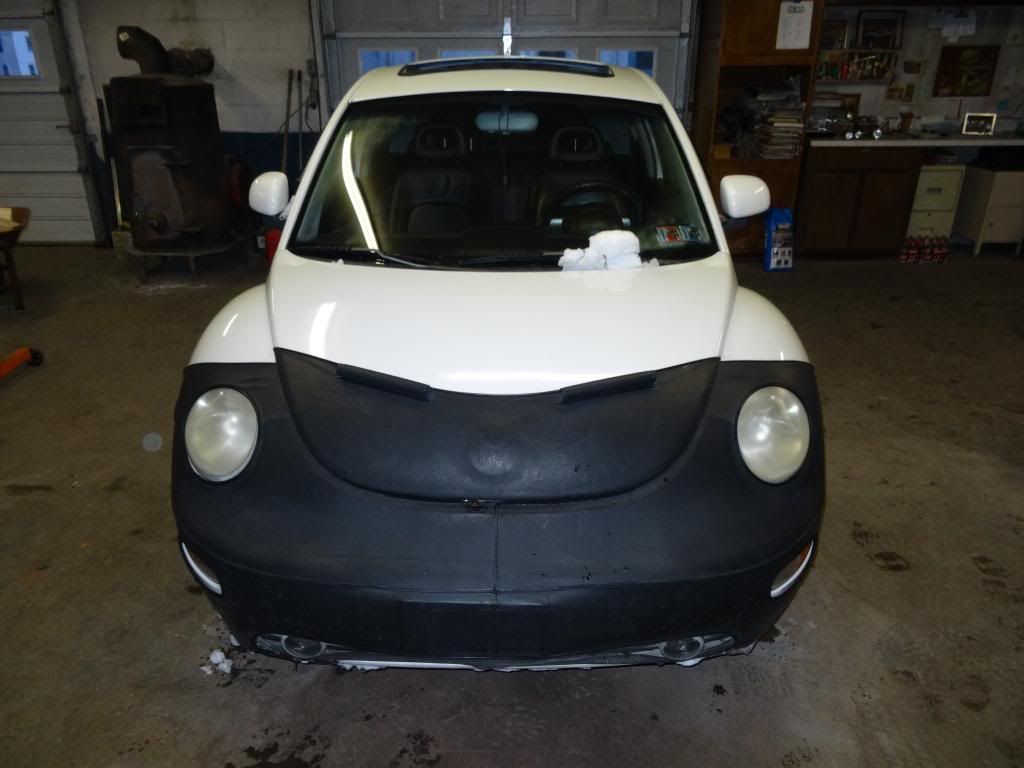 but its nothing I haven't dealt with before. Interior needs a good cleaning, and that window tint has got to go.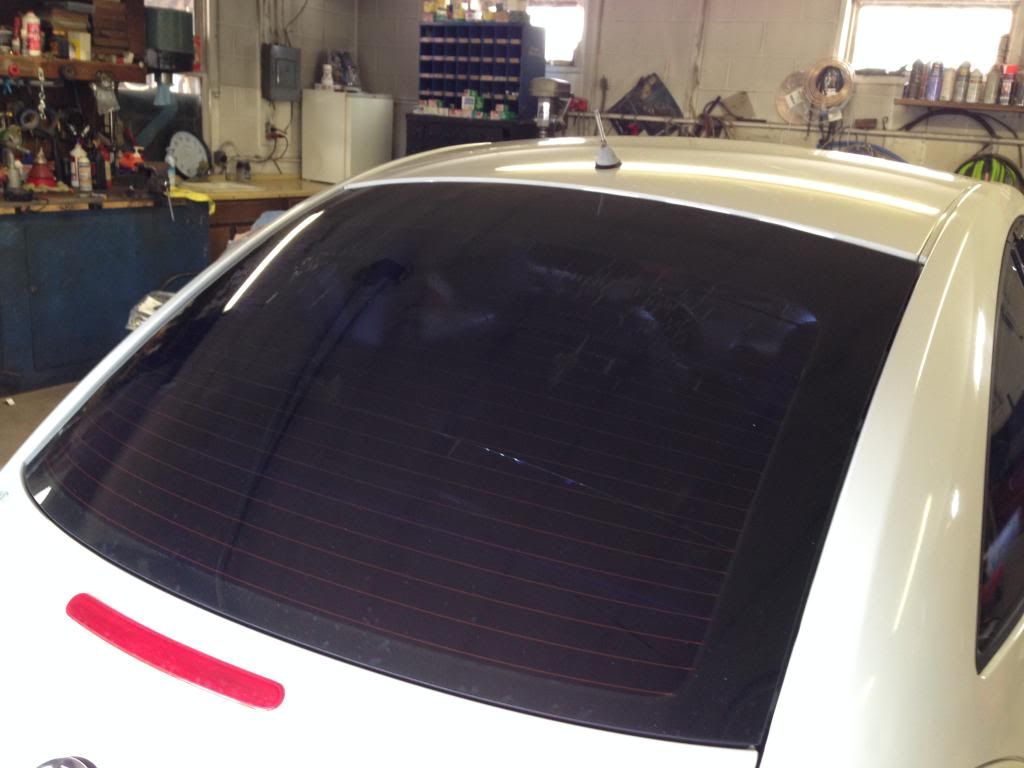 But first I gave the Bug a tune up, new air, cabin, fuel filters, oil change, timing belt, water pump, and accessory belt.
One of the first projects I decided to start on was refinishing a set of Millie Evo 5 17s I've had for a while. I was just going to paint the wheels the car came with but one was cracked and all the tires are dry rotted and unsafe. These are what they looked like before.
And after.
I used PlastiKote Flat Enamel, but left the fake but actually unscrew from the wheel(Go figure)beadlocks bare aluminum to accent the Autobot centercaps. Which are GM center caps from the 2011 Transformers Edition Camaro. Hinty Hint of where this car build is going.
So I don't know if anyone else on here likes Transformers at all but your about to get a big dose of it, I've always been a huge fan of them since I was a kid, you know back when Bumblebee was a dopey little 73 Super Beetle. Then in 2007 Michael Bay did a amazing job on the revamping of Transformers by turning Bumblebee into a kickass 77 Camaro and then later into the Concept Camaro. And I've seen both on the road, old yellow Beetles with a simple red autobot logo on the drivers side of the hood, and the new body style Camaros with autobot logos on the sides and the special decals.
I figure why not do kinda a combo/mashup of both on a New Beetle. So this is car is going to be Bumblebee on a New Beetle with the new Camaro's color scheme.
So today I started working on the body, I'm going to be doing all the body and prep work and I'm having my friend then paint everything at his paint shop to keep costs down on the whole project. As of now I got all the rust cleaned down, primered, all the dents are smoothed out and the hood emblem has been filled in.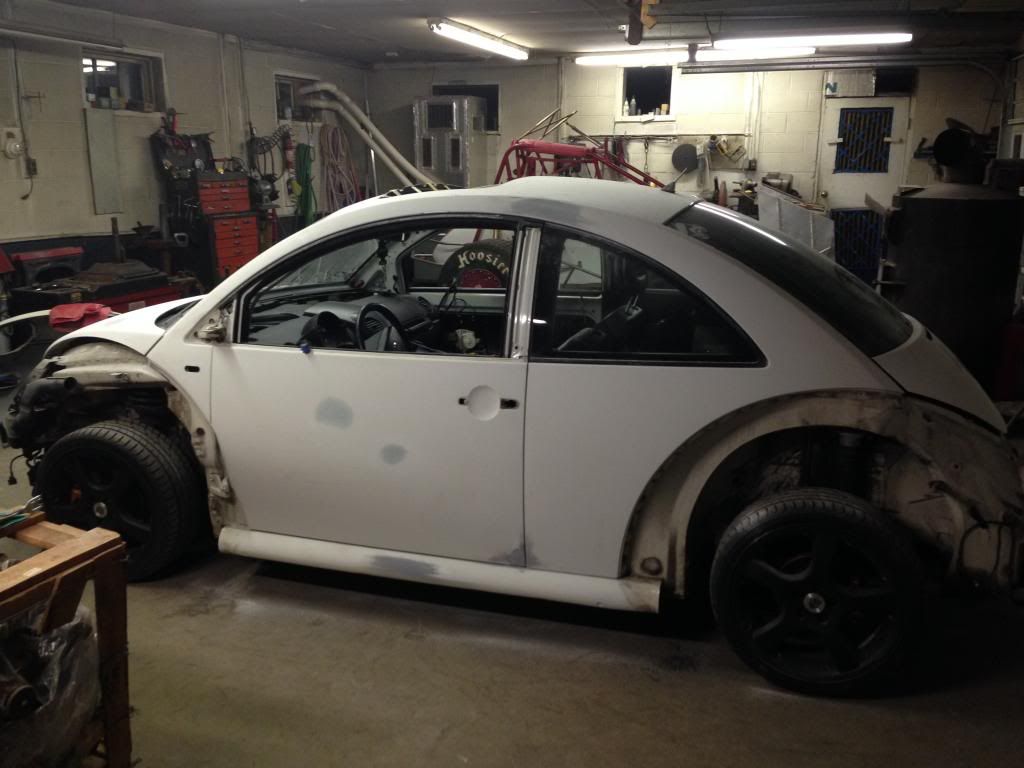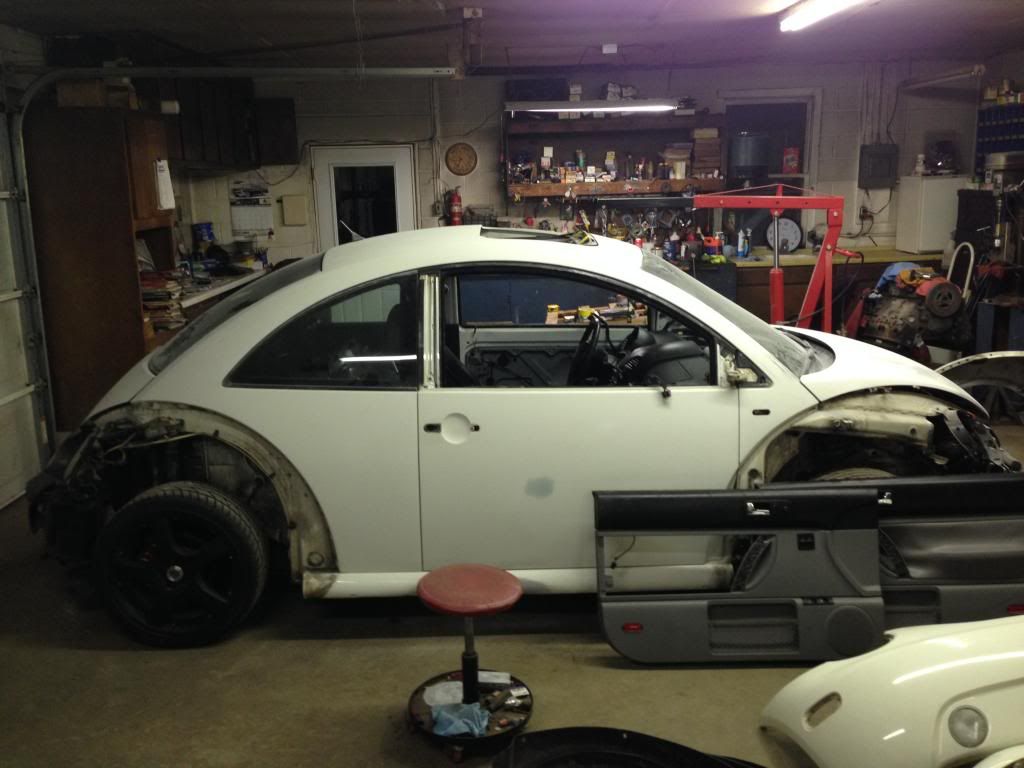 Reason why I stripped off all the fenders and bumpers is the car will be getting a two tone paint job. The doors, rear quarters, little area where the side blinker are and window suround area will be Hot Rod Flatz Flat Black. The rest of the car will be Sunrise Pearl by House Of Kolors, the exact color of the Bumblebee camaros in the Micheal Bay movies.
As of now I'm just waiting on a set of 10 point torx sockets to get here so i can remove the doors, hood, and hatch. All the jams are going to be painted flat black as thats going to be the first stage of paint done. The beetle is a pretty good car to do a full color change on because there is barely any visible painted surfaces in the engine bay to deal with.
So while I'm waiting for tools and paint to get here I swapped in some new rear speakers, as you can see this ones pretty shot.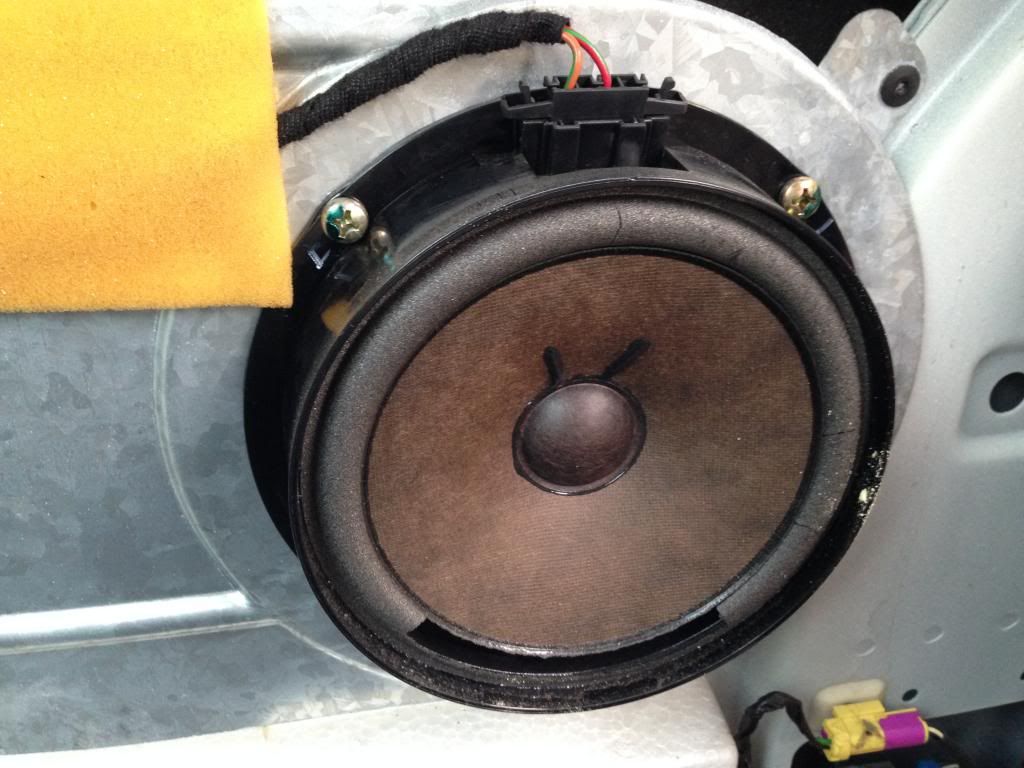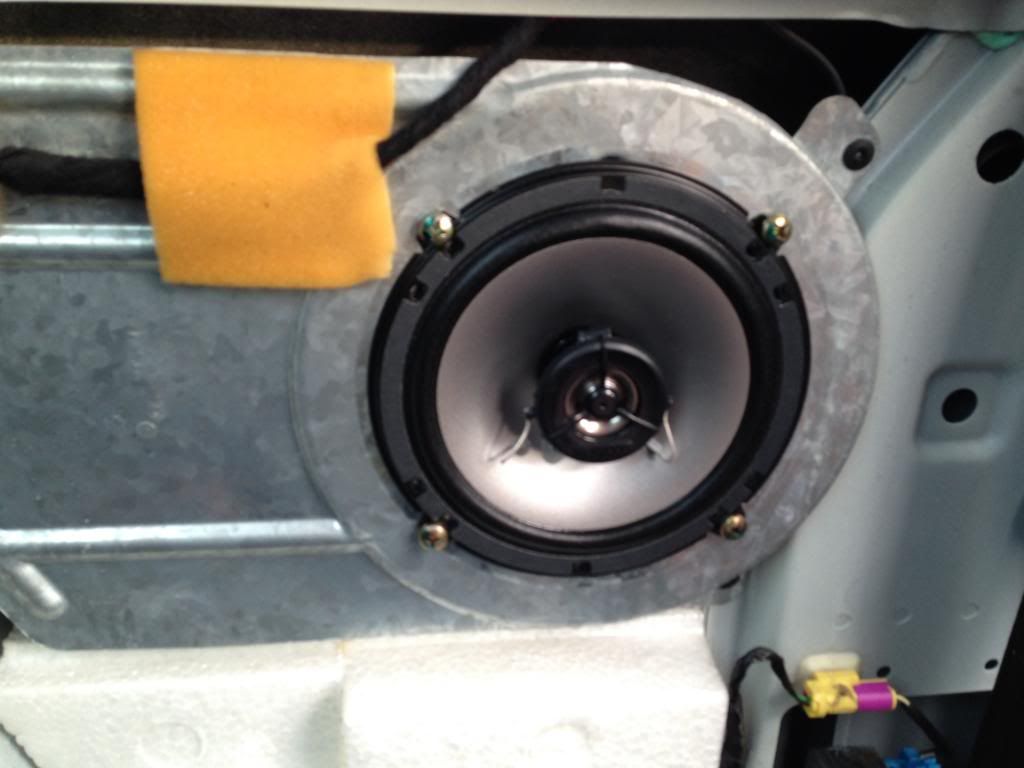 These are just some low end Kenwood KFC's I got for 15 dollars new in box. I plan on once I have all the exterior paint work done pulling all the carpet and seats out to clean them well and lay in new wire for my Rockford amps, and my JL Audio C5 components for the front doors.
But for now just waiting on stuff to get here.