A boy and his 2.0: 'Lil Red'
I have a 2.0l 2000 red, New Beetle GL.
What it started as: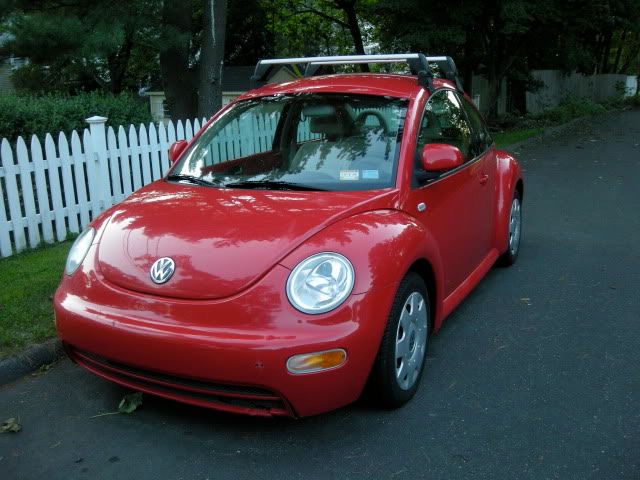 As it is now:
It was originally my dad's commuting car, bought new. We were supposed to get a silver one with the leather and all that, but something happened and they needed to replace the roof or something. I was about 8 at the time and didn't really know what the deal was, but long story short, we ended up just getting this red one that was on the lot. To be honest i would have liked to have the silver one, but it's ok haha.
I got my license about 5 months ago, (i'm 17) and was pretty excited knowing that the beetle would basically become my car. I love to drive it, and think it looks pretty cool, especially from certain angles. Only real problem is the comments i get from certain people. It's kinda a 'love it or dickishly make negative remarks about it', relationship. I try not to let them get to me but suffice to say, it's 'bugging me.'
I will not be stopped though, i think modded bugs are some of the coolest looking cars out there, and i think with a little work, my NB can be one of the 'cool' cars too

Mods:
-Black and grey GTI sport seats in the front
-DRL disabled
-20% tints sides and rear
-black lower valance
-blacked out emblem
-Pioneer head unit
-Infinity Reference door speakers
-Painted hub caps
-Steering wheel cover
-Painted shifter boot
-black painted center console and door handles
-Some stickers and little figurines
!
-Audi tt 'short' shifter
-Snowbox removal
-VR6 OEM alloys (painted black)
-smoked taillights
Desired Future Mods:
-Roof painted black
-Joey mod headlights black
-Get rid of all that hideous creme stuff in the interior. Idk who's idea that was...
-clear corners
-shaved hood and trunk
Dream Future Mods:
-turbo
-exhaust
-chip
-coilovers
-etc.
So i'm sure most of you didn't read my autobiography up there, so here are the pictures!
Before: