Discussion Starter
•
#1
•
I have the dash removed from my 98 to replace the disintegrated foam blend doors. At this time I also cleaned the cabin air filter and cleared all the debris that collected in the air inlet cavity of the dash.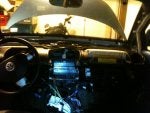 I cleaned quite a bit of dry leaves and insects out of this cavity. I was pretty surprised to see how much debris was allowed to collect here. I don't have a good photo before it was clean, but it was a lot.
Shown below is a view of the cavity I am referring to:
In vacuuming the filth, I broke the plastic clips that hold this component: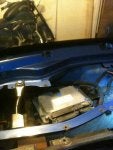 Does anybody know what this is? I will need a new way to fasten it. It isn't protected form the elements very well. Leaves were packed in under it.
I feel like the leaves were excessive. Then I noticed the large gaps that let air into this cavity from under the wiper cowl: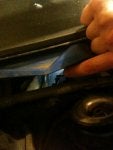 In the photos above the wiper cowl has been removed. The white light is an LED flashlight shining from inside the air inlet cavity. Is this normal? Or is my car missing a piece? I don't believe that any of the removed dash parts cover this area. What keeps water from pouring into this area? There is not rust and the leaves were all dry, so I guess water does not get in.
I think it would help if the wiper cowl would clamp tight to the bottom of the windshield. Mine has been siting loose since the struts were replaced in 2006. Any tips for getting the wiper cowl to fit tight again?
My last questions relate to the blend door. The foam is cleaned off and I am contemplating what to replace it with:
Any ideas? I am thinking of ordering a rubber sheet from McMaster Carr.
Also, the brittle plastic that holds the defrost lever to the cable broke:
I need a new way to fasten the green sleeve so that the cable can pull back and forth on the defrost door. Maybe a drilled hole for a zip tie to pull tight?
Thanks in advance for any thoughts and advice.