Hey guys. My name is Gabrielle but most call me Gabbs or Gabbie. Born and raised here in Omaha, NE. I'm now 18 going to massage therapy school... I'll be done in August. Then the west coast is calling me. Anyway, I've been in the Dub scene since I was 12. I got my first VW at 15, it was a 1973 bus that I referbished and sold when I was 17. Then I bought a 1987 Jetta GLI Wolfsburg edition that I did a 2.0 aba engine swap in and sold last month to a friend in Lincoln, NE. I bought my 03 Beetle about 2 weeks ago. Traded the Mk2 Jetta and cash for the wheels. I'm the Omaha VW club secretary here in town. Love my Volkswagens.
Mods so far are:
-ABT wheels
-Thule beetle rack
The beetle is a Flordia car, and was bought by someone here in Nebraska in 2009...then they put 100,000 miles on it. Amnd their dog scratched the heck out of stuff...GRRRR
I'm an enthusuast though and beileve about the journey, no the destination. My goals are this car as follws:
-FK coilovers in the spring
-$300 Kenwood radio installed and take out the broken 6 disc changer in the middle compartment.
-New turn signals. headlights and tails (crystal clear)
-Custom headliner and dash kit
-ko3 turbo and tune
Once that's taken care of I'd eventually like to do an automatic to manual tranny swap, maybe upgrade to a 1.8t
(This is my daily though so, I'll have to stick with the small mods now).
All about that stance so some camber may be in the works too.
Here are some pics (I'll take more tonight when I get the roof rack on) (It's water-cooled VW meeting night):
Who needs just ONE flower when you can do a bouquet?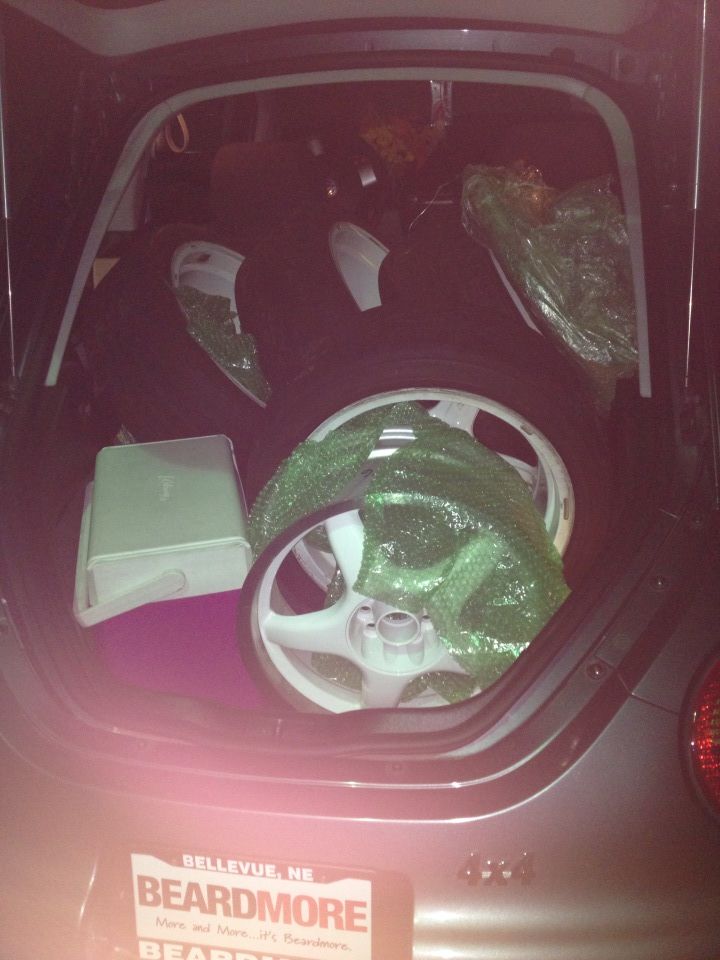 How to fit 5 wheels, a backpack, a cooler, and massage table sheets in the back of a bug
My baby