·
ElectricHarleyHouseOfLove
Discussion Starter
•
#241
•
And just cuz he's so darn cute, here's a photo of my "Helper" for this project, Zack. His hands don't even really fill up the palm space, but he just HAD to have every finger in the proper place in the glove.
(and of course, he wasn't in there while I was actually painting, either.)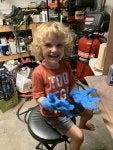 Time to start a new fashion trend?