Discussion Starter
•
#1
•
I finally got around to removing my snowbox today. I wanted to check and see what the power increase would be so I used my scan tool to record the MAF reading at wide-open throttle between 3000 and 5000 rpms on the same stretch of highway before and after removing the snowbox. The mass of air entering the engine is proportional to the amount of fuel being added and therefore the power output.
What I found was that after removal of a snowbox that has been unserviced for 14 years and 115,000 miles the power output of the engine increased by 3.7% at 5000 rpms or about 4 horsepower for the 2.0 engine. Since a full tank of fuel weighs about the same percentage of the weight of the car, the increase in acceleration would be roughly equivalent to an empty vs. full tank of fuel.
The improvement for the 150 hp 1.8 l engine would be larger since the engine produces larger airflows through the intake. The percentage improvement would increase approximately in proportion with the engine power output, so for a 1.8 l engine the power increase should be around 4.8% or 7 horsepower.
Removing the snowbox was fairly easy: Jack up the left front and remove the wheel. Use a Torx T-25 to remove about the forwards 2/3s of the wheel liner retainers. Pull down the front part of the wheel liner to expose the snowbox. Use a T-30 to remove the little bracket for the fender that is in the way. Use a 10 mm wrench to remove one bolt and one nut that support the snowbox and snorkel assembly. I was able to get the snowbox and snorkel assembly out by first removing the turn signal housing to gain room and then pulling the snorkel down past its mounting bracket. It can then be twisted so the two spring clamps can be removed. Once the snorkel is removed the snowbox can twisted around so it can be removed as well. The two halves of the snowbox snap together and can be taken apart with care. Start at one end with bladed screwdriver and work all the little latches out to release them. Eventually if you get enough of the latches released the box will come apart.
Here are photos of my screen. It was not completely plugged, but pretty close.
Here are all the parts of the snowbox and snorkel assembly: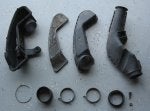 Here is a chart of the MAF readings from before and after the snowbox removal: