Discussion Starter
·
#1
·
Hi my fellow Bug fans... got the EPC light on for the second time and decided to take some pics and do a how to for everyone. Do it yourself and tell the stealership where to go...
First, the EPC light came on after about three years of owning my Bug... my first warning light during ownership. VW recalled the brake switch and it was fixed for free at the dealer. Now (Summer 06), VW has once again recalled the switch and sure enough my EPC light is back on. My stealership said they would not fix it for free unless they got something in writing from VW, as I am not on the recall... WTF?? No way I am paying $80+ for them to "diagnose" my Bug when I know what is wrong.
One other interesting thing to note about these brake light switches is, there WILL be THREE versions. Version one (original) was recalled around 04 and now there is version three in the works. According to my stealership they are not shipping from VW until fall 06. I want my brake lights to keep working and the EPC light out, so I got version 2. Anyhow, on with the install...
1) First, try starting the Bug, and pumping the brakes... sometimes this will cause the EPC light to go out... or you will get this...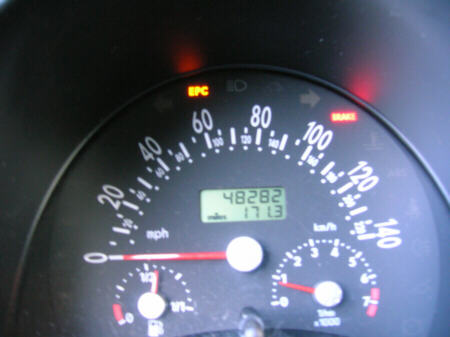 If it stays on, you need a new switch... proceed to the stealership and pay ~$14 for this...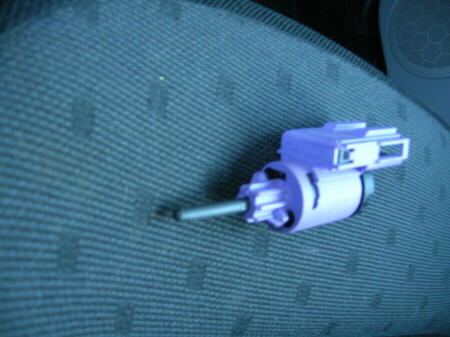 Mine was big gay purple... In order for VW to keep track of what version a crappy electrical component is, they change the color... see my temp sensor thread for another example.
The original/recall 04 is black...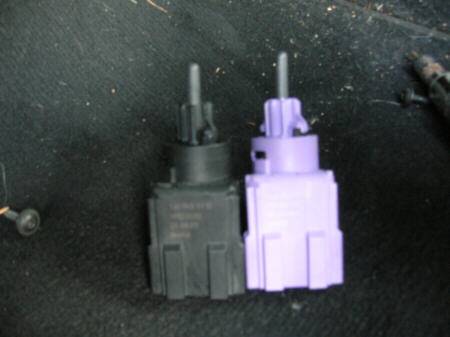 2) Remove the cover panel above the driver's side foot well...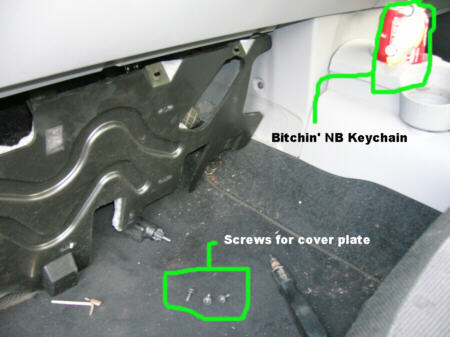 3) Locate old switch, push in brake pedal, and twist switch body to remove...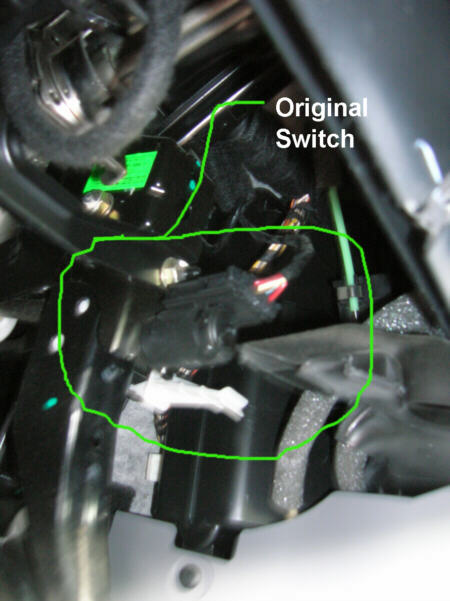 4) Unplug 4 pin connector from old switch and plug into new switch (it only goes one way...don't force it!) Insert new switch into frame and depress brake petal. You should turn it until it locks into place and is positioned like the original.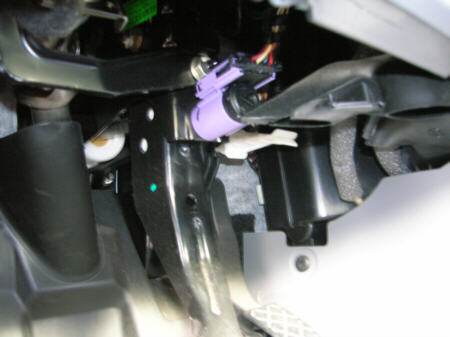 5) Start Bug. Press the brake pedal once or twice and the EPC light should go out...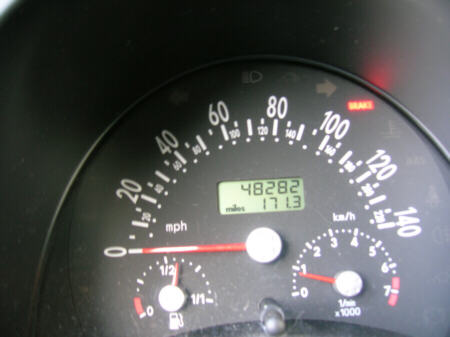 If it looks like that... great! Replace the cover over the foot well and you are done! If not, check the 4 pin connection and make sure it is fully seated in the switch. Also check to see if you can hear the switch engage when you press the brake pedal.... if not you will need to remove the switch and adjust the push rod. The rod will move in and out for adjustment.
Oh, and check to see if the brake lights come on when you press the brake pedal as well!
That's it, hope this helps someone out. I was reading some reviews from Bug owners on ... I think edmonds.com, mabey yahoo autos and I couldn't believe people complained about easy fixes like changing a headlamp bulb. These people were paying a stealership, $50-$80 to change a bulb!! No wonder they didn't like their Bugs. True NB enthusiats would have found the ORG and be out driving.
Hope this saves you all some cash... Be safe driving,
-Audiophil