Discussion Starter
·
#1
·
My New Beetle story:
My name is Shannon, I'm 20
This is probably going to be long. I'm bad at summarizing!
Until February of this year, my favorite (and only) car had been my silver 2003 Oldsmobile Alero (named Walter because he was such an old man). Until I wrecked him....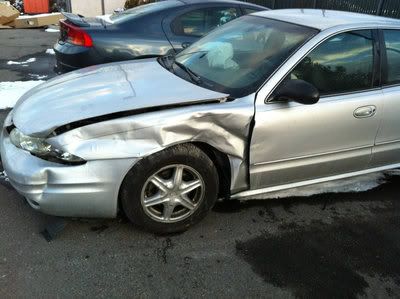 … and I had to accept that I may never drive my beloved Walter again. He sat for a week at the dealership before the insurance company notified us that he was totaled, and that I was lucky to be alive (they said most of the people they see in accidents like mine don't just walk away, because I was essentially T-boned). My poor Walter had given his life for mine.
It was a difficult time... :crying:
Meanwhile, in Seattle, my older brother had been trying to sell the black 2.0 5spd 2001 VW New Beetle he'd bought for $1,500 when he'd first moved up there three years prior. Growing up, we never had manual cars, so he had to have his friend teach him to drive it. Haha. Not long after, he bought a VW Golf, and had been looking to sell the Beetle for quite some time. So my parents decided to kill two birds with one stone: Buy the car
from
him,
for
me to drive. I'll eventually buy it from them and have the title and insurance switched over into my name. Anyway, my dad flew up to Seattle and drove it back down to Reno.
...and I, too, had to learn to drive a 5spd. Two weeks learning before my Dad turned me out on my own and finally let me drive it.
And I was in love! This car fits me so well. My boyfriend was especially excited for me. He's a German car enthusiast (likes the older models, and fixes them up), and had recently sold his 5spd BMW to pay for our trip to Europe. He missed his 5spd and couldn't wait to drive one again. We argued over a name for my new beetle... He says it's a male, because of the "stick," LOL. I think it looks especially girly, so in the time we spent debating names, I'd been calling it Buggy. And now it's kind of stuck. I think it's fairly asexual. Ha.
But Buggy wasn't, and still isn't, perfect. According to my dad and the dealership mechanics, he (I guess we'll go with "he") desperately needs the following mechanical improvements:
-New Starter (current one makes an awful noise just after the engine turns over)
-New Timing Belt, and while we're in there...
-New water pump (we've read if you do one you may as well do the other at the same time for convenience)
-New Serpentine Belt
As well as a number of cosmetic improvements I'm interested in, including (but not limited to):
-New rims, or refinish the current rims
-New center armrest/console... it's quite broken
-Tinted windows
-Refinishing the interior door panels, and all things with that rubberized coating on them, for that matter.
-New paint or some kind of cover on the painted parts of the steering wheel
-New shifter handle, mine's cracked
-Replacement interior lights, and other miscellaneous things
-And eventually a new paint job. Lots of chips on my hood and front fenders from highway miles.
And much more...
I am, by no means, a pro at any of this as I'm sure you can tell. I have learned a lot about cars, especially German cars, over the last 3 years, thanks to my boyfriend Blake, but I still have much to learn. I'm really looking forward to making this car my own and learning as I go to make necessary improvements that will have it running and feeling better. There are currently about 160k miles on it, and I plan to make it last much longer. I love this car already. It's my first VW and I'm proud to drive it. I can't wait to become part of the community here on NewBeetle!
Any suggestions are MUCH appreciated.
Here are some pictures of my baby Buggy