OmahaTDI's 2005 Platinum Gray TDI, aka: Shadow
dyned suggested that I start an album so here goes... Nothing much to report as this NB is intended to be my daily driver, through all types of weather & snow. Funny, although this was just to be a great-mileage daily, I really, really like it and am already thinking about performance mods in the way of chipping it, exhaust and suspension. Still need to get the windows tinted. That may come later this winter or next spring.
Mods/Repairs
Exterior
New OEM front & rear VW Emblems
Euro-style clear front turnsignal lenses with clear bulbs
Non-drilled front bumper
Satin-Black Painted lower grill & foglight bezels
Flat-Black Painted lower rear bumper where back up lights are mounted
Sharan Bee Sting Stubby Antenna
Spliced in used ambient temp sensor from Jetta, mine was missing
Painted calipers & rotors
2004 18" OEM R32 Aristos powdercoated gloss black with a coat of clear on top
7mm spacers up front to clear coilovers
17" TSW Vortex wheels - spring/summer (alternates)
16" Satin black stockers - winter
2.25" SS Magnaflow Catback
ROKKOR Coilovers
Interior:
Euro headlight switch with DRLs disabled
OEM Turbo S Pedals, Dead Peadal Set
OEM Turbo S Leather Shift Boot & Knob
Monster Mats
Here are a few pics from the dealership I was negotiating with in Colorado Springs, CO (about 600 miles away). For the most part it was in decent shape. However, the PO had run the front bumper over a curb or something and messed the lower portion of the bumper pretty good. You might be able to see it in these pics. There were also a couple of large holes in the lower mesh grill. AND, the left & right front bumpers had splits or tears in them. I don't know how, but someone must have kicked them or? The paint was OK it but the front bumpers had problems. On the plus side the interior was in great condition, it only had 47+/- miles on it and had the owners manual. But only one key & no service records other the the carfax which did show services performed.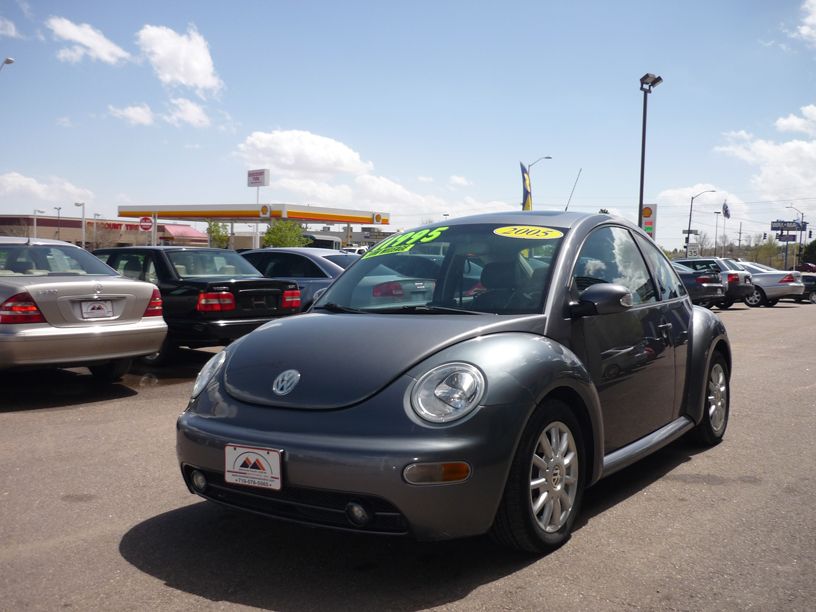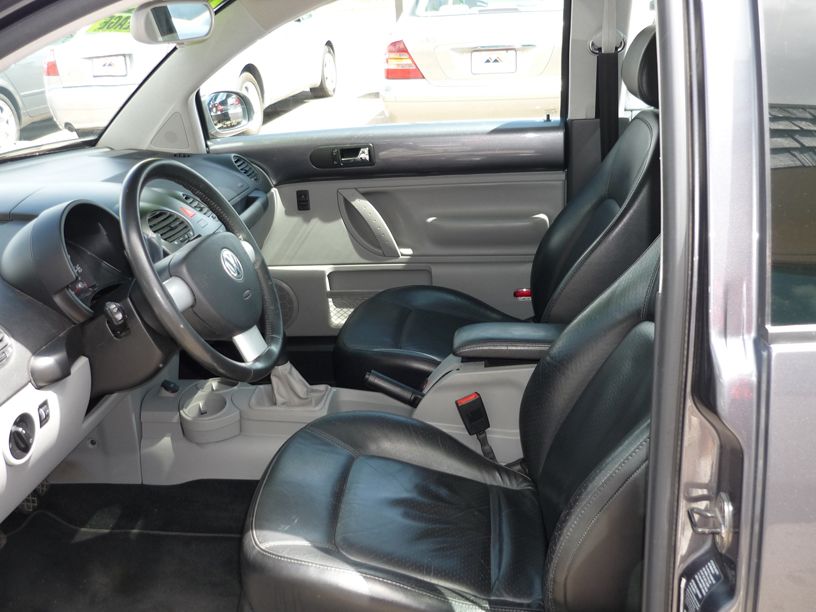 After a few phone calls and emails, I told him we would like to trade my Jeep in towards it but would need to have the bumpers & fenders fixed and have a 2nd key made. He agreed and we jumped in my Jeep & headed West. Here are a few pics after we arrived to take posession:
Our '95 Jeep Grand Cherokee. We loved it but, like my wife said, "It rides like a bucking bronc" LOL. I must say, after about 6 hours on the road, when stopped and checked into our motel, it felt like we were still moving.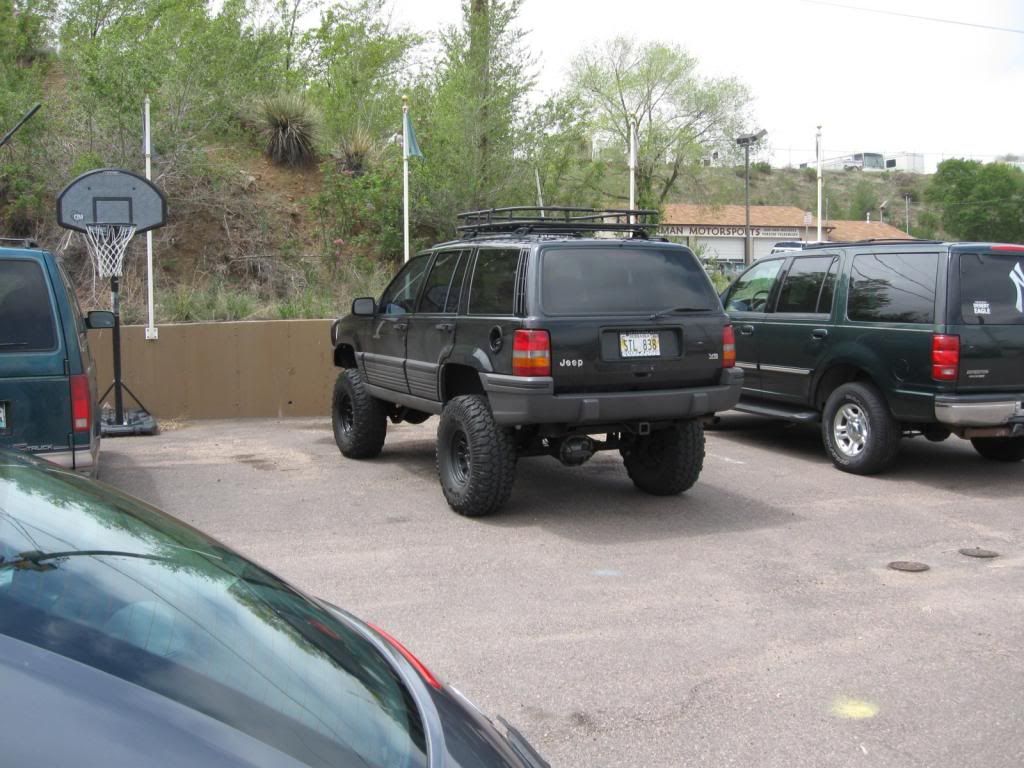 More with the NB in the pic. Kind of dwarfs it for sure: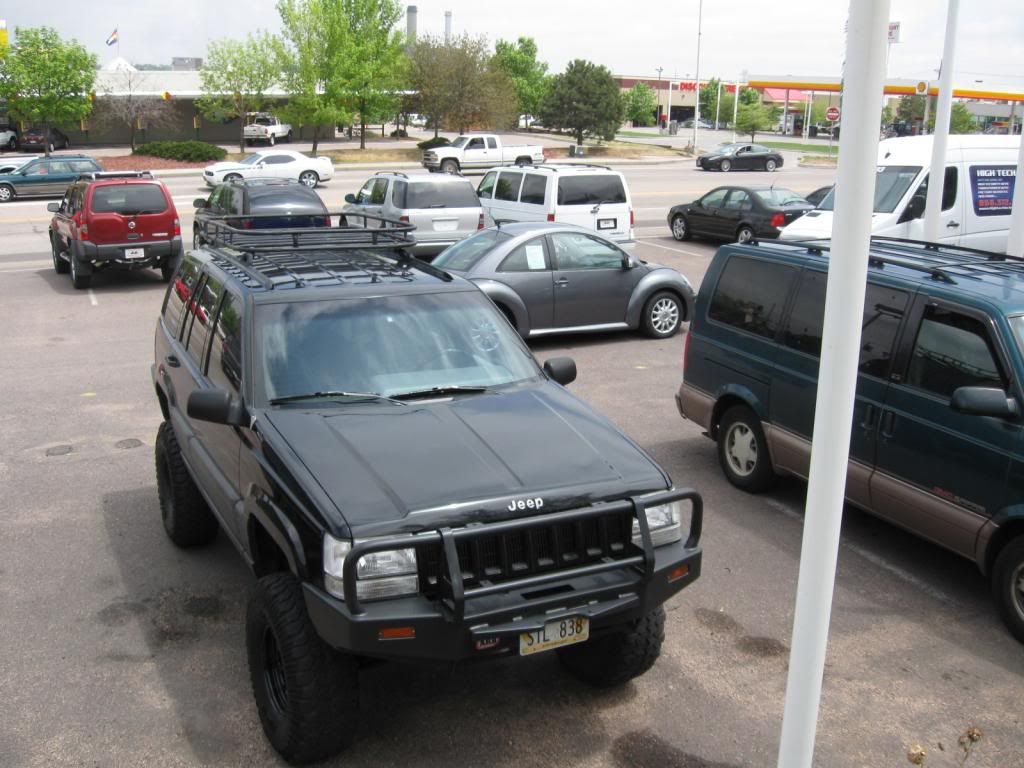 The NB getting final clean up after all repairs were made. He had a locksmith come out and make a 2nd key for us.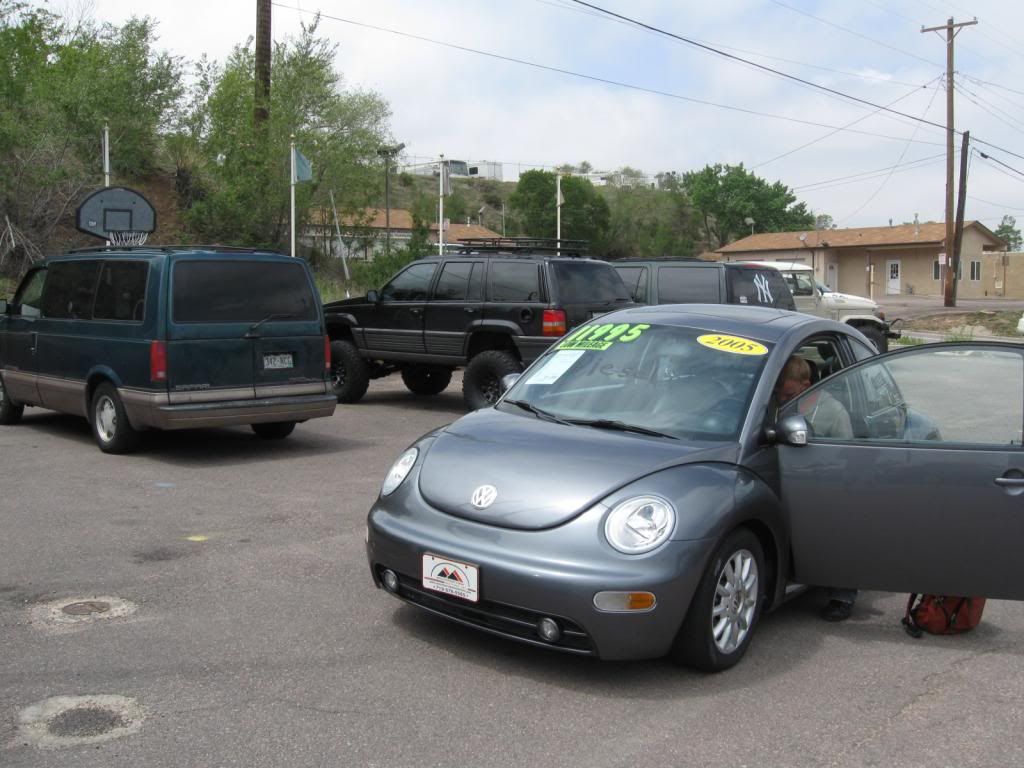 After a few minutes of final inspection & signinig papers, he gave us $40 cash to fill it up and we left the Jeep there & headed back home to Papillion, Nebraska. Gotta say, the ride was much smoother on the way home.