·
2008 "Fowvay" yellow NB
Here's my car.
His name is Wink.
He's imitating a Russian jet fighter prototype known as a Sukhoi Su-47 Berkut and he's my best friend!
He won 3rd place at the Volksfest show in Columbus Ohio 2004.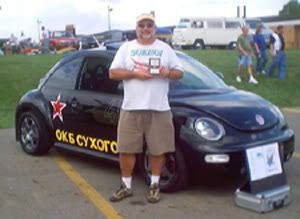 He has many mods. Here's the complete list.
Inside:
Joystick shifter and custom Su-47 shift boot from OverHeadCam's mom. (Thanks and credit to Beetlemania for the joystick idea and instructions)
Simulated airplane instrument gauge face for use at shows

TT pedals and dead pedal
New Beetle Monster Mats

Euroswitch
Spoiler switch relocated to dash

Black door handle trim pieces
Blue LED lit bud vase
Flat black painted interior accents
Exterior:
Su-47 Berkut Vinyl graphics

16" Sport Edition Fox 2 Sport Rims

Personalized license plates

White hood

Rear fog light

Red painted calipers

Painted emblem indents

Black altezza tails
Llumar window tint - 50% on drivers and passenger windows, 20% rears & sunroof
ProDesign Speedster Wiper Cowl
OEM splash guards
Clear front corner lights
Turbo script
Under the hood:
Modshack TTDA intake

ECS N75 Race frequency valve
Forge 007 DV
Custom engine cover - cyrillic warning jet intake!

2 meep meep horns
Rear engine seal removed
Handling stuff:
O-Bar rear sway bar

Prothane dogbone mount bushings from ECS tuning
I want to thank Tom/Fowvay and Jose/Toad for these, my 2 favorite pics of Wink.