First came my Father's 1985 911 Factory Turbo-Look (M491 option code). As you probably guessed, it came from the factory with Turbo bodywork and brakes. It also has uncommon options as a full leather interior. It is super-clean for an '85. It is modded, but not much. It has a Steve W. DME chip, Dansk euro pre-muffler (cat delete), and a Dansk sport muffler. It has also been lowered using the factory adjustments (bet some of you didn't know that torsion-bar 911's came with adjustable suspensions!). The only addition we made cosmetically were clear front markers (not pictured) and OEM leather sport seats. It is a comfortable and fast cruiser; a real GT car.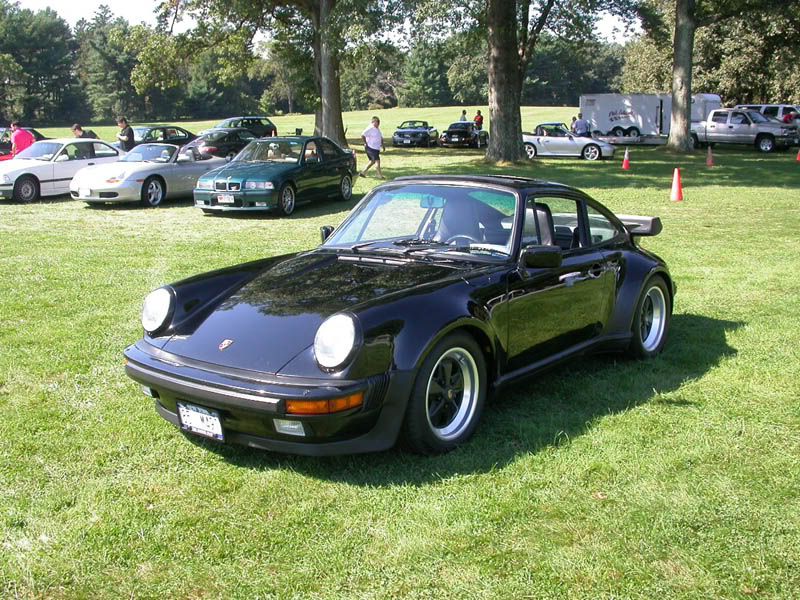 Of course, he doesn't want to take this car on the track, but still wants to race (and so do I). So, there was no other option but to go for another 911.
This time, it's a 1980 911SC. The P.O. already modded the 3.0L engine with 46mm PMO carburetors, SSI heat exchangers and a Monty muffler, and MSD ignition. Where the 3.2L of the black car has low-end grunt, the 3.0L revs without hesitation. Also, the SC is probably 150-200 pounds lighter than the TL, which makes for a VERY quick car. We are going to mod this car further with the track in mind. Toss out anything too heavy (audio equipment for starters), smooth the bumpers, lower the car (bilsteins already on it), ducktail rear spoiler, factory chin spoiler, and did I mention a diet plan for the car
NOW you understand why it says "Porsche Support Vehicle" next to my avatar!